One of the last harvests for our season is the Citrus fruits, by this end of the season we get a little silly, hundreds and hundreds of jars all hand-made can do that!
Our first KEFIR LIME were picked, which was just another small triumph! but the best/only photos we took show what I mean.. evocative of something, but what??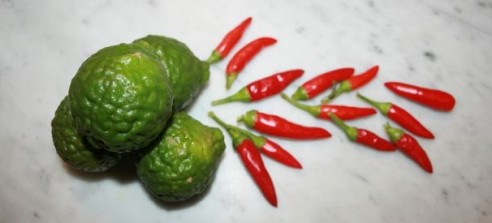 Sour old Cumquats have a new lease on life! Once we realised, to our surprise, that they aren't even considered a citrus fruit (!?!) And its the peel that's sweet and the flesh that's so, so sour :*  (- enough emoticon sillyness!!) So we got onto trialling Marmalades to release down the track, but the The recipe we can talk about: CANDIED CUMQUATS!
Give it a go as a side to a morning porridge, or to a simple tea-cake, a basic steamed pudding, or (KISS) icecream! The sauce is thick and honey-like, and its only a hint of sourness left inside the almost glace fruit! It's your secret weapon to impress!
But just over the last few days, its been all ORANGE MARMALADE! We've taken to toning down the 'kick-of-the-mule' bitterness that most folk associate with marmalades, by using thin skinned and sweeter oranges, You could really nearly call it a conserve, except the obvious and delectable orange rind reduced to candy in every spoonful.
Lemons are a source of JOY! We are playing with recipes to launch at some future date of PRESERVED LEMON! The photo shows a recipe with lemons slating and fermenting with spices, lots of spices, cumin, pepper, fennel seed, – quality salt too mind you. We'll let you all know if these pass the friends-with-high-expectations test. Or, stop by and try for yourself, we love all kinds of feedback!
Well, that's the brief update on our kitchen season, Please consider trying a more vibrant flavour if you see these in your local cafe or outlet!
Or lots more info in the HHStore!
HUMBLE HOUSE – ORANGE MARMALADE
HUMBLE HOUSE – APRICOT CITRUS BUTTER
HUMBLE HOUSE – CANDIED CUMQUATS (coming soon!)