We've been wanting to write this for ages!
Most people have heard of Chia; and it being referred to as 'Nature's Complete Super-food' – but is it a fad? Or is it something that can be an important to every-ones diet; no matter what their health demands or issues? I will tell you about my journey with Chia in the last couple of years. My cousin Fritz started growing Chia in my hometown of Kununurra in the Kimberley a couple of years ago. After meeting up with them on holiday in NZ, they gave me a couple of bags of Chia to try. Now to be honest I wasn't as intune with my health back then; I had 2 very young children and was spending my days just trying to keep up with them. That bag of Chia stayed in my pantry for a while, then I started to hear about all the health benefits – and so I gave it a go. What blew me away was that within a few days I started to feel real benefits to my own health! But, as importantly, it actually improved the texture of what I was putting it in, being taste neutral it didn't effect the taste of anything, so it was pure enjoyment!. Health & enjoyment; it is a no-brainer for my family.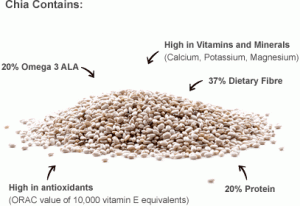 Chia is a member of the mint family that is the richest plant based source of Omega 3, dietary fibre, protein and antioxidants. It is grown chemically free & sustainably on the Ord River in the Kimberley. It is great for people who want to increase their energy levels, want to increase fibre in their diet, manage their weight, maintain their heart health and lowering cholesterol, and amazing for diabetics for reducing blood glucose levels. We have many customers who have claimed to this result. It also has many vitamins & minerals including Calcium, Iron, Magnesium, Phosphorus & Potassium.
Lastly what I have noticed the most is that the omega 3 & 6 ALA, antioxidants and protein help me with healthy, moist skin. Before I used Chia I tried to use fish oil capsules. I was left with a terrible fishy breath, and my skin would occasionally break out terribly. I have quite dry skin from living in the driest state in the driest continent in the world (SA 'mostly' great!), compared to the humid Kimberley I grew up in, but Chia helps me with this; and if  miss a day or two I will first notice by my skin.
Chia is also great because it is gluten free. Wade & I eat mainly 'carb-free' during the week, and we would find this really hard to do this without using Chia and Chia bran. It makes our lifestyle choice nearly easy! Chia is also fun for the kids. Master 5 year old eats it plain for breakfast every morning and loves running around with Chia stuck to his lips! For a kid who hates breakfast, it is a great start to his day. It doesn't take long to discover that Chia swells up three times its size (or more!) when in water. It doesn't take much to fill an empty belly!
1 tablespoon a day (15g) is all that is needed for more than your daily dose of Omega 3 & 6. There are some great ideas for recipes on www.thechiaco.com.au, but here is a an idea of what we use it for:
Chia & fruit & yoghurt & nuts
~ in porridge
~ on top of roast veges
~ on top of salad
~ in banana cake/muffins
~ in home made bread
~ in home made sausage rolls
~ on its own
~ porridge
In stock we have:
1kg Chia black & white
& 500g Chia black & white
Call us and we'll chat about our experiences with Chia til the cows come home…
Rachel and Wade